Vacuum trucks are a vital tool within the environmental services industry, capable of moving large amounts of both hazardous and non-hazardous materials. These vacuum trucks are highly versatile, with uses in industries ranging from oil and gas terminals to manufacturing. At Hull's, we operate a fleet of 70bbl and 130bbl vacuum trucks and tankers across the southeast and the south-central United States.
Types of Vacuum Trucks
Applications for vacuum trucks vary widely, with every project requiring the removal of different materials. At Hull's, our vacuum trucks and tankers are designed to remove and transport hazardous and non-hazardous sludge, liquids, wet products, and dry solids. Depending on the needs of our customers, we may utilize any of the following types of vacuum trucks.
Liquid Vacuum Trucks
Liquid vacuum trucks are used in a wide range of commercial and industrial applications to pump liquids. This type of vacuum truck can effectively pump liquids from septic tanks, oil/water separators, catch basins, oil spills, and various other settings.
Combination Vacuum Trucks
As the name suggests, combination units can vacuum both wet and dry materials. They may utilize a hydrostatic drive for power. Typically, combination units are able to switch back and forth between dry and wet systems, allowing for a significant amount of versatility.

These trucks are an excellent option for situations requiring the removal of damp materials. Applications include the cleaning of:
Storm Drains
Sewer Lines
Catch Basins
Settling Ponds
Drainage Ditches
Industrial Vacuum Loaders
Industrial vacuum loaders are highly versatile, offering a particular advantage when working with dry or dusty ground. These trucks function through the use of positive displacement blowers, which direct the air and make it possible to excavate a wide range of different material types. Industrial vacuum trucks are also equipped with a unique filtration system which makes it possible to use them in areas that have high amounts of flying debris and ash, such as furnaces. As such, industrial vacuum trucks are an ideal choice for many projects in chemical and manufacturing plants.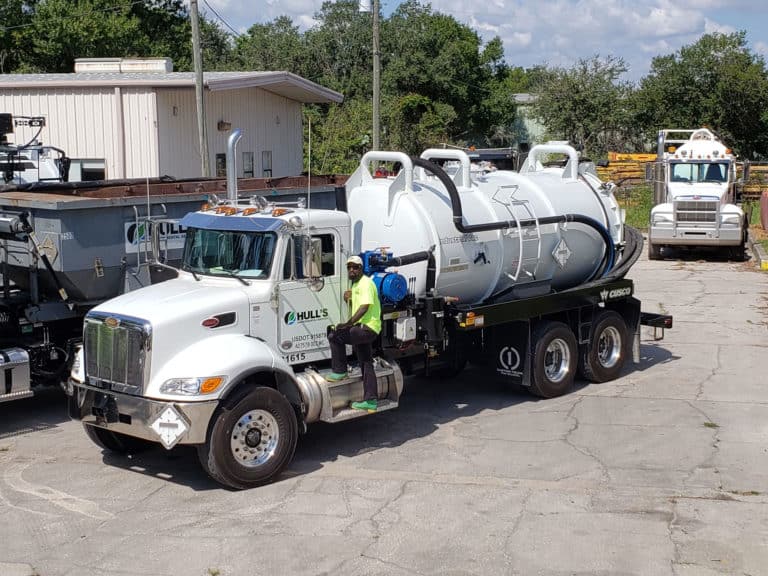 Other areas that benefit from this type of truck include:
Farms
Baghouses
Food-Grade Facilities
Power Plants
Vacuum Tankers
For applications that require more power than an industrial vacuum truck can give, vacuum tank trucks are the ideal next step. Our tanker vacuums are able to pump, hold, and transfer a variety of liquids and slurries at higher capacities than vacuum trucks. We own and operate a fleet of 130bbl vacuum tankers across all locations.
Vacuum Truck Services from Hull's
At Hull's, we maintain a fleet of vacuum trucks and tankers in Georgia, Florida, Oklahoma, Tennessee, and Texas. We serve the entire southeast and south central United States and are able to transport both hazardous and non-hazardous materials. Our highly-trained staff will work with you to determine the best vacuum equipment for your needs. To learn more about our vac truck services, contact us or request your quote today.